Pamela Banks, often just called Pammy by the others, is a character featured in Serial 11 "The Planet of Genetic Misadventure". She is a furless Cygnusian panda that has black and white skin, and is often drawn wearing an apron. She is the maidservant for Sir Jon and Miss Sonny, and thus lives in The Rhoades Mansion along with Jon and Sonny's kids Perry and Lorri Rhoades. Pammy is a very dutiful maid, always willing to do what she can for the Rhoades Family and whatever it is they might need, and seems to care a lot for her employers. Pammy does however have doubts that she'll be able to become pregnant as she's tried everything she could think of, including doing an intense week long mating ritual that supposedly increases one's chance of having a child by a large percentage.
So far Pammy has not displayed any powers, however she would assuredly be very talented with cleaning and cooking. She also forms a reference to the Progressive Rock group Genesis along with Miyan Rutherford and Kara Collins.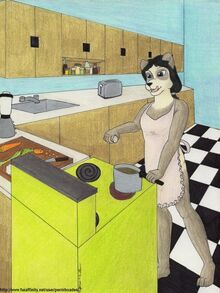 Ad blocker interference detected!
Wikia is a free-to-use site that makes money from advertising. We have a modified experience for viewers using ad blockers

Wikia is not accessible if you've made further modifications. Remove the custom ad blocker rule(s) and the page will load as expected.